Welcome to the Grand Piece Online Wiki!
We are a community dedicated to the online multiplayer game, Grand Piece Online, our main purpose of this wiki is to document information about the game in order to aid players in progression and many other extravaganza.
What is Grand Piece Online?
Grand Piece Online is the long-awaited 2020 seafaring ROBLOX game developed by Grand Quest Games. Discover hidden islands across the ocean, scavenge for treasure and exotic fruits known to empower their eaters, challenge imposing bosses, and both form and shatter crews. Your path is your own, also based off the notable Shonen manga and anime, One Piece.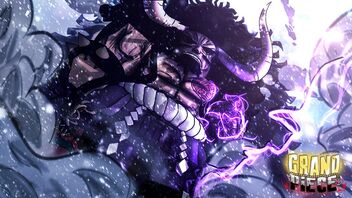 NOTE: Any Discord servers that claim to give free fruits or gamepasses are a scam. DO NOT click on any of these scam links; the people who post them might be ip grabbers/ loggers, so do not trust them. If you see any of these scammers, report them immediately.
Need help building out this community?
You can also be part of the larger Fandom family of communities. Visit Fandom's Community Central!
Community Founders: Write a good and paragraph-length description for your welcome section about your topic. Let your readers know what your topic is about and add some general information about it. Then you should visit the admin dashboard for more tips.